Fernando Gonzalez - Director Operations & Sales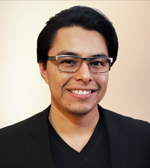 Fernando Gonzalez started his career at various studios in the Los Angeles area. From creatives to encoding, analog to digital, administrative to management, Gonzalez has sampled many aspects of the Media Industry.
With this knowledge and experience, Gonzalez heads all Content related operations for Contentbridge and its clients. Under his purview, the company has seen optimized operational workflows to its content Ingest, management, and delivery procedures. Additionally he's a key member to the Software development that keeps Contentbridge ahead of the curb in the industry's constant changing environment.